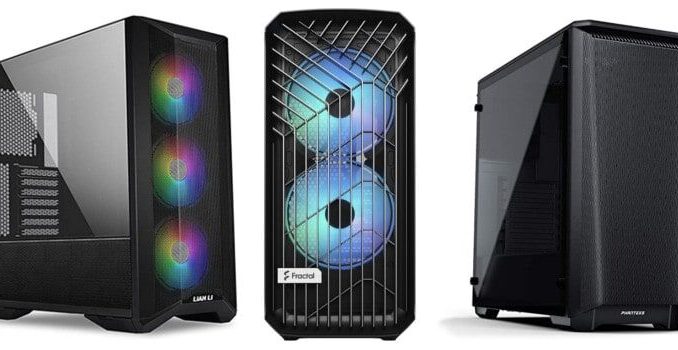 our computer case is a lot more important than you think. For starters, it plays a critical role in the cooling process of your system. And, your case will also determine what you can and cannot do in the future with your computer (in terms of upgrades.)
Not only that but for a lot of people, the style of their PC case and the way it looks is also an important aspect. Let's face it, if you put a Lamborghini engine inside of a Toyota Corolla and priced it the same as the Lamborghini, fewer people would buy it. People like style.
So, despite the little direct impact that your gaming computer's tower will have on your gaming experience, it's still crucial that you take your time and select one that will give you excellent airflow, upgrade opportunities, and that will look the way you want it to. Because, in the end, your gaming PC's case is the only part of your computer that could still be relevant and usable 5-10 years down the road.
In this post, we will take a look at the best gaming cases in 2022 at various categories and price ranges. And, if you're specifically looking for a mini-ITX case, or a micro-ATX case, check those links for our list of the top options at those form factors.
For a quick look at some of the best PC case options, the table below shows our picks for the top options for different use cases. We've chosen the best overall PC case, the case with the best airflow/thermals, the best full tower case, the best case mini-ITX option, the best value case (under $100), and the best cheap case.
Lian Li Lancool II Mesh
For our top overall PC case, we chose the Lian Li LANCOOL II Mesh. One a spec-for-spec and feature-for-feature basis it probably isn't the best case on the market. However, it's an excellent all-around case that comes with a very reasonable pricetag, and that led us to give it the nod over more expensive cases that have more features.
For starters, the Lian Li LANCOOL II Mesh is well-known for its high airflow design thanks in part to its mesh front panel. The particular model linked to above comes with three RGB fans preinstalled on the front panel, but the case can hold up to a total of eight fans.
The LANCOOL II Mesh also has a ton of room on the inside and can house high-end systems with no problems. It can hold graphics cards up to 384mm long and CPU coolers as tall as 176mm. And, it has room to hold an E-ATX motherboard (although, with an E-ATX motherboard you'll lose access to some cable management grommets).
The case can also support a wide array of liquid cooling configurations, including the ability to house up to a 360mm radiator on the front panel or to to a 240mm radiator on the top. But, while all of that sounds great, the reality is that a lot of cases come with similar specs and features. Where the Lian Li LANCOOL II Mesh stands out is the pricepoint it comes in at (just under ~$130) and the amount of rave reviews it has recieved from its owners. So, given its reception and incredible price-to-value ratio, we felt that the Lian Li LANCOOL II Mesh is the best overall case currently available.
Fractal Design Torrent
The best case for airflow & thermals
If you have a large budget and your goal is to get a case that will provide optimal airflow for your build, then your best bet is probably the Fractal Design Torrent. With the Torrent, Fractal Design revamped the traditional case design to produce a chassis that is optimized for airflow.
For starters, the Torrent moves the PSU mounting bay from the bottom of the case to the top of the case and provides a nice-looking half-shroud to conceal the bulk of it. And, instead of providing a vented/mesh top panel, the bottom panel of the case (which is not restricted by a power supply) is vented and comes with three 120mm fans.
Paired with the two 180mm fans on the front of the case and a vented front panel, this configuration has allowed the Torrent to sit atop most case thermal and airflow benchmarks.
The only real downside of the Fractal Design Torrent is the price it comes in at. At just under $250, it is almost double the price of the LANCOOL II Mesh. And, while the Torrent does show an advantage in cooling performance, that difference is marginal. So, if you're a budget-conscious builder who is looking for a solid case, the Fractal Design Torrent may not be the best option for you.
On the other hand, if money is of no concern, and you're looking for the best-of-the-best, then the Fractal Design Torrent is definitely a high-end case you'll want to consider.
Corsair 7000D
The Corsair 7000D Airflow is another high-end PC case that will suit those looking to build a power gaming PC. The 7000D has a ton of room inside of it and has the ability to house graphics cards up to 450mm long and CPU coolers up to 190mm tall.
The 7000D Airflow edition also comes with a vented front panel and three preinstalled 120mm fans which give it good cooling right out of the box. However, if you're purchasing the 7000D you likely aren't just going to stick with the stock fan configuration. In total, the 7000D can hold up 11 fans and it also supports radiators as big as 480mm on the front panel and 420mm on the top panel.
This monstrous Corsair case also comes with a ton of other nice features, including Corsair's RapidRoute cable management (allows you a clean and convenient way to route your cables), a ton of room behind the motherboard tray (which will make cable management easier), a PWM fan repeater that controls up to six fans, four 2.5-inch bays, six 3.5-inch bays, and a USB type C port on the front panel (to name a few).
Ultimately, though, with a pricetag of just under ~$270, the Corsair 7000D Airflow won't be a viable option for the majority of builders. But, for those of you who are looking to build a multi-GPU, custom liquid cooled, extreme gaming setup, this full tower case might be the best choice for you.
Cooler Master NR200
Small form-factor systems continue to be a popular choice among system builders. And, with the rise of mini-ITX systems has come a ton of unique cases that have a small footprint.
And, considering how many awesome mini-ITX cases there are out there, it may be somewhat of a surprise to see that we chose the Cooler Master NR200—a sub-$100 option—as our pick for the best mini-ITX case.
Like the Lian Li LANCOOL II Mesh, the Cooler Master NR200 stands out not so much because it is the clear-cut best at what it does, but rather because of what you get for the price you pay.
The NR200 is a straight forward mini-ITX case that will provide you with all of the room you need to build a high-end system. It can hold graphics cards as long as 330mm and CPU coolrs as tall as 155mm (you won't be limited to a low-profile CPU cooler).
Not only does it offer solid cooling performance out-of-the-box for a mini-ITX case, but it also has the potential to house a robust liquid cooling setup for even better thermals.
But, perhaps the best feature of the NR200 is how easy it is to build inside of. Traditionally, mini-ITX cases are more difficult to build inside of due to their smaller footprint. However, the NR200 allows you completely disassemble it, which makes building a PC inside of it incredibly easy.
All-in-all, with its sub-$100 pricetag, its straightforward design, its spacious interior (for a mini-ITX case), and its focus on making the building process as easy as possible, we felt that the NR200 checks the needs of the widest range of PC builders.
Phanteks Eclipse 400A
If you like the Lian Li LANCOOL II Mesh, but you can't afford to spend over $100 on it, a nice alternative is the Phanteks Eclipse 400A. In alot of ways, these cases are very similar. Like the LANCOOL II Mesh, the Eclipse 400A comes with a mesh front panel, a tempered glass side panel, a full length PSU shroud, support for a wide array of liquid cooling configurations, and plenty of interior space to house a high-end system.
The Eclipse 400A can hold graphics cards as long as 420mm and CPU coolers as tall as 160mm and it can hold up to six different fans. It can also hold up to 360mm radiators on the front panel.
The LANCOOL II Mesh does offer a little bit better cooling performance out-of-the-box, but the Eclipse 400A isn't that far behind.
So, the reality is that, if you're looking to save a little bit of money and you don't mind a small drop in cooling performance, the Eclipse 400A is an excellent alternative to the Lian Li LANCOOL II Mesh.
BitFenix Nova Mesh
If you're looking to build a budget-friendly gaming PC and you'd like to save as much money on you case as possible (so you can allocate it to your GPU and CPU) you might want to consider BitFenix's Nova Mesh case.
The Nova Mesh comes in at just under $60, making it an incredibly affordable case option. It isn't the biggest case on this list, but with support for up to 315mm long graphics cards and 160mm tall CPU coolers, you shouldn't be restricted that much in the kind of system you can build. In fact, that's enough room to house a high-end graphics card with no problems.
And, while most budget PC cases don't offer adequate airflow or cooling, the BitFenix Nova Mesh—as its name suggests—comes with a mesh front panel. And, with the two preinstalled fans, it should provide decent enough cooling.
If you have a little extra to spend, you can get the Nova Mesh with four preinstalled RGB fans for about ~$20 more, too.
The bottom line is that, if you are looking for ways to maximize your budget, the Nova Mesh's low pricetag will help you free up some money to ensure you can get a more powerful CPU and GPU combination. And, even though it is a cheaper case, it still will give you plenty of room and provide adequate cooling.